Algebra Help is Here With
Simple Steps to Success in Algebra!
Have you had the chance to look around on Algebra-class.com? Were you able to find the Algebra help that you need?
I hope that you've been able to benefit from the many detailed examples that I've developed to help students truly understand Algebra concepts!
Many readers have expressed their concern about the way in which the web pages look when printed. The font is small and difficult to read, not to mention the "void" space that creates more wasted paper!
Since I am a Math teacher and believe it or not, a very inexperienced web developer, my solution is to create a PDF version of the website! This way you'll get a "clean copy" and you can print any page or multiple pages with one click!
Yes! That would be very convenient, wouldn't it!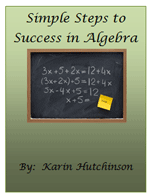 Therefore, I've created an e-book titled, "Simple Steps to Success in Algebra".
This 300 page e-book contains every Algebra 1 example from Algebra-class.com in a printable PDF format!
So, instead of surfing through the Algebra-class.com site, you will have your own copy of all of the examples from the website. You can print the entire site if you want to.
Click here to take a look at the table of contents and a few pages from the e-book!
Get your copy of Simple Steps to Success in Algebra for just $7!
You will have instant, printable access to all lessons (all 300 pages) on Algebra-class.com!
Here's what people are saying about Algebra-class.com!
I am a pensioner living in South Africa.I stumbled on your website, the best thing that could happen to me! Your course in Algebra has helped me a lot to better understand the different concepts! Thank you very much for sharing your skills for teaching math to even people like me, and that for FREE!! Please do not stop as I am sure that your teachings have helped many thousands of people like me all over the world.
Noel
South Africa
I needed Algebra help badly. You really helped me figure out how to do my homework without getting confused and I thank you for that. I just wanted to thank you for your help.

Raven
United States
I was so frustrated with not being able to understand the distributive property formula, until I searched the web and found your site. Thank you so much. My eyes have been opened, and you are truly a gifted teacher. I am 47, and taking remedial math in college. It is such a waste of my time to sit there for a whole hour and some, and still not understand a thing. I am so excited about finally finding the right algebra help. Again, thank you.

Rose
United States
I just wanted to write and basically thank you for making such a WONDERFUL website! I'm 20 yrs old and about to take a basic placement test for college. I wanted to brush up on my algebra skills and I stumbled upon your site. I'm amazed at how simple you made it and how fast im remembering algebra!!! I don't remember getting most of the answers right when I had an actual teacher in front of me teaching me this!!! So I just thought you deserved alot of KUDOS!!!! Thanks

Elizabeth
United States
Thanks for the Algebra Help!
This site was amazing. Thank you so much! I'm in an advanced math class and fell behind a little ...and thanks to your site I'm all caught up! Thanks again!
Alex
United States.
For just $7 get YOUR copy of Simple Steps to Success in Algebra!
Have you purchased a copy of Simple Steps in Algebra and Want to Share Your Review?
Like Us on Facebook
Recommend this on Google
Algebra Class E-course Members
Sign Up for Algebra Class E-courses
Click here to renew or retrieve a lost password.
Search This Site
Custom Search
Algebra Class Tools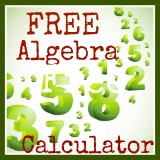 Algebra Class Courses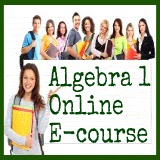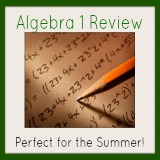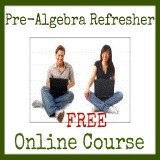 What People Are Saying...
Dear Karin,
I am a homeschool mom of five who struggled with finding a solid algebra program for my older boys until I came upon your algebra class. Your tutorials are straight forward and detailed. Your assignments are designed in such a way that we can spend extra time on what my children need to and move on when they understand something more easily.
I am a math-lover myself and am excited that you have finished part 2 of this course. My boys are understanding algebra in a way that they never were able to with other courses due to the detail and care that are in each of your lessons. I also appreciate that you are available to answer questions.
Thank you,
Jacqui Coleman
---
Dear Karin,
Finding your site was such a blessing to me! I have been out of school for 13+ years and finding out that my next course would be Algebra scared me to death!
I have now found a new love of learning for algebra--something I never thought would happen. After indulging in the section of functions, I decided to explore other areas that I have just learned. It made areas such as inequalities and graphing so much easier to grasp!
I just wanted to thank you for your passion and dedication for helping others! I also love the fact that you add in some humor, too. I have shared your site with classmates and hope they take an opportunity to look into it as well! Thank you----
With greatest respect,
Dani
---
Hi Karin,
I just spent 3 hours doing Unit 5 Lessons 1 & 2 because that is what I am learning at school this week, and cannot believe my progress. I so wish I would have found your course sooner. It is amazing. You explain everything in such clarity it's like night and day. Thank you so much for getting me started. I am so happy you can't believe it. You are the best instructor ever!
Thanks again.
Joe