Get Rid of Your Frustrations Today!
Find an Algebra Math Tutor to Help With Homework and Studying For Tests!

Do you have a child who is completely frustrated with their math work?
Is your child performing poorly in math class because he/she can't keep up with the lessons?
Are you unable to help your child because you haven't studied Algebra in 20 years!
If any of the above statements applies to you, I completely understand! 
I am an Algebra tutor and I have helped many students and parents who feel exactly the same way!  They come to me out of complete frustration and with tons of anxiety.
Many of these students are completely capable of doing well in Algebra and with just a little help find success.  Sometimes you need someone to show you a different method, explain the process a little more, or back up and teach the prerequisite skills.
With one-on-one tutoring, you can get the help you need to break through the math frustration and anxiety, understand the concepts, do well on homework and tests, and raise your grades!
What Kind of Tutor Do You Need?
---
I've researched many online tutoring companies and I have finally found one that I feel confident in recommending.
When looking for a tutoring company, you want to look for the following criteria:
They provide you with a choice of tutors.
They have a work space that allows for you to connect with the tutor one-on-one through video chat and use of a white board for working on math problems.
Have availability at different times throughout the day in order to accommodate your schedule.
Are priced reasonably so that you can afford to get the help that you need!
Where You Can Find a Tutor With These Qualities?
---
After much research, I've settled on Chegg Tutors.  Here's what I like about Chegg.
They have many tutors to choose from that can help with a variety of subjects. 

Each tutor comes with their own bio so you can read about their background and experiences. They also post reviews about each tutor so that you can see if other students had a positive or negative experience.  Therefore, you can choose the tutor that best fits your learning style.  Plus, if a tutor isn't helpful to you or doesn't meet your needs, it's very easy to choose a different tutor for your next session.

They have many different tutors, so there is availability at all times of the day.  Let's say you only have 1 hour to complete your Algebra homework.  You are stuck on the first problem and don't understand the lesson at all.  You can easily log on to the website, choose a tutor who is available, and get the help you need instantly!  This saves you time so that you can finish your homework in a reasonable time and then you can go on with your evening activities!  Plus it eliminates your frustrations that come with spending so much time trying to figure out how to get the right answers!
You can schedule your favorite tutor ahead of time.  You've found the perfect tutor. The one who you connect with and understands your style of learning.  You can schedule your tutoring sessions in advance to make sure that you connect with that tutor on a weekly basis!  By building this relationship, you will feel comfortable asking questions and getting the help you need!  Just watch your grades soar as you get the help you need on a consistent basis!
Chegg has a great interface for interacting with your tutor.  You can upload your homework and then chat via video or use the interactive whiteboard to work your problems.  This interface makes it feel as if the tutor is sitting right beside you as you can both write on the whiteboard at the same time!

Online Interactions is convenient!  No need to leave your home! You get the help you need from the comforts of your home without having spend time driving! 
Chegg is reasonably priced.  They have a variety of payment options which averages about $30 an hour.  Many tutors and tutoring companies charge $50 or more an hour.  Chegg allows you to choose the amount of time needed on a weekly or monthly basis. Therefore, you only pay for what you need and it's reasonable so you can continue to get the help you need!
And... they start you off with a FREE half hour!  So, you can try it out before you  subscribe!
Here's How It Works!
---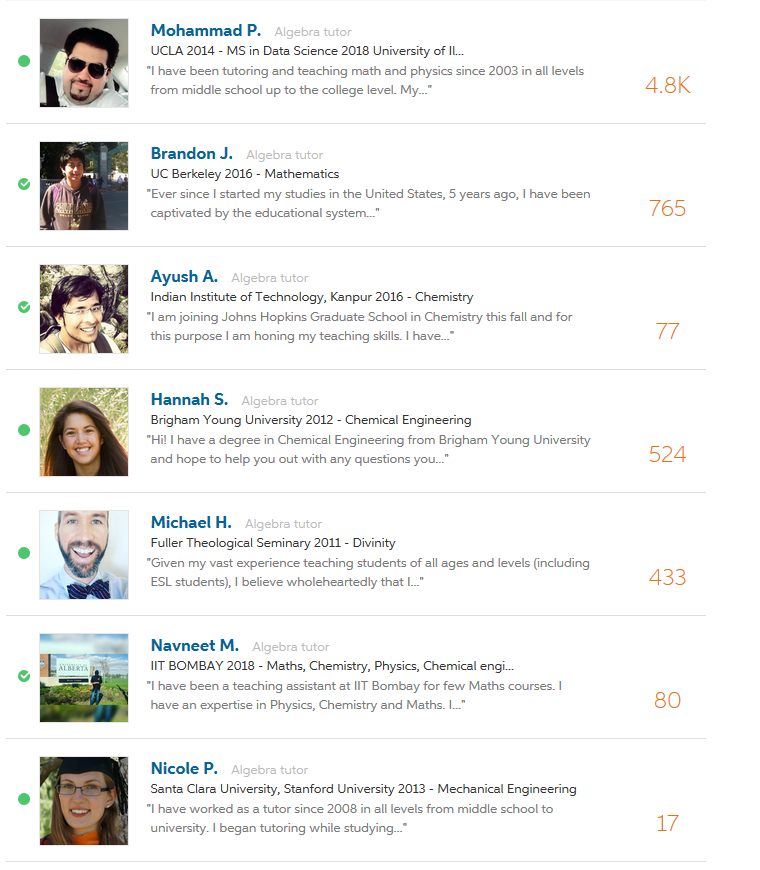 Choose your tutor!
This is only a few of the many Algebra tutors.  You can also see who is online and available immediately.
The orange numbers also indicate how many reviews have been posted for each tutor.
Once you click on the tutors name, you can read their full bio and read all of the reviews that have been posted.
You can also message the tutor if you have a specific question or want more information.

---
From this online interface, you can upload your homework, write on the white board and conference with your tutor.
There is an option for text chat or video chat. You can also use the white board to interact with your tutor as if you were sitting beside your tutor and writing on a piece of paper!
The best thing about Chegg is the number of tutors that they have available! 
We know that there's always a chance, with any company or person, that you will get a tutor that you just don't jive with.  It happens, but the nice thing with Chegg is that you can easily find another tutor that may better suit your needs! 
And... when you find the perfect tutor, just schedule them in advance!
Don't Continue to Frustrate Yourself with Algebra Homework!
---
Sign-up now for your FREE 1/2 hour tutoring session!  If you get the help you need, get rid of your frustrations, and get better grades, then you can sign up for more!!!