Math Study Tips
How To Best Prepare For Your Test!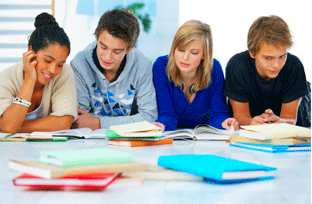 In many schools, tests compromise between 60-80% of your final grade! That's huge! So, you MUST do well on those tests!
So, the question is, "What Can I Do to Perform Well on My Math Test?
The Very First Thing You Can Do is STUDY for Your Test! Use these math study tips to help!
Math Study Tips
Most likely you've been studying your most recent Math unit for a few weeks. So, you probably know what concepts are going to be tested! In many schools, your teacher or professor will also tell you which concepts to focus on or study!
Hopefully you've saved all of your classwork and homework papers from the unit!
The following are steps that you should take to ensure proper studying for Algebra or any Math Test!
Gather all of your notes, classwork, and homework papers from the unit.
Find 2 or 3 problems from each concept that you have the answers to. This is very important! Make sure that you have the correct answer to each of the problems that you select!
Highlight or put a star next to these 2 or 3 problems that you chose.This way you'll be able to easily find them at the end to check your answers!)
Write these problems down on a separate sheet of paper. Then put your notes away for now.
Complete the problems that you wrote down on the separate sheet of paper, without using your notes!
Check your answers with your notes.
Make a note of any mistakes that you made while solving the problems.
If there's a particular skill that you had difficulty with, go back and repeat this process again for that skill! Practice until you feel comfortable with the skill!
You can even make yourself a little test. Go back and choose problems from previous quizzes or classwork problems and make yourself a test. You could also have your parents or an older sibling make a test for you from your notes!
Studying with a group of friends or classmates is always a great idea! But... you need to be organized. Just showing up to study usually ends up more as "social hour!" Come prepared! Make up a practice test beforehand for everyone to complete. Then everyone will be focused on a task! Help your friends and they will help you!
Remember – you are responsible for your success, so take the time to study! If you do take the time to study, make sure that you use your time efficiently!
TIP
If you don't feel like you can use problems from your notes, then you can always make a practice test from the problems on Algebra-class.com. Choose 2 or 3 problems from lessons that you are studying. (They can be examples or practice problems from the site.) Write the problems down, solve them and then come back to the website to check your answers!


By using these math study tips, you can be sure to be fully prepared for your next test! Best of luck to you!