Finding the X Intercept and Y Intercept
To Graph Standard Form Equations
Now that you've completed your lesson on Graphing Using X and Y Intercepts you are ready to practice! So... let's do it!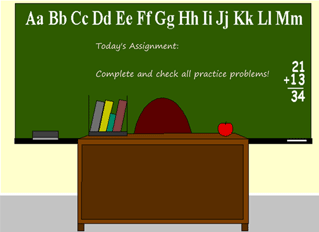 Directions: Graph the line using the x and y intercept if possible. If you need to, rewrite the equation in slope intercept form and then graph.
Click here to print out graph paper.
1. 3x +4y = 12
Let's check your answers!
Answer Key
---




---






So... how did you do?
If you didn't do too well, and you need extra practice, be sure to check out the Algebra Class E-course. You'll have instant access to examples on video, a lot of practice problems with step-by-step answers, quizzes, tests, and a lot of "tips" for the trickier problems.
Like Us on Facebook
Recommend this on Google
Algebra Class E-course Members
Sign Up for Algebra Class E-courses
Click here to renew or retrieve a lost password.
Search This Site
Custom Search
Get Your FREE E-course!
Do You Need to Review Your Basic Algebra Skills?
The Algebraic Expressions Course is the perfect solution for fine tuning those rusty Pre-Algebra skills.
Once you sign in. you'll have instant access to the student workbook and online videos.
It's FREE, so try it today!

Having Trouble with Your Homework?