Algebra 1 Homework Help
Every Time You Need It
Now you can get Algebra 1 homework help instantly and with step by step explanations.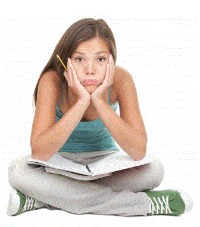 Is this how you are feeling right now?
Does it take you hours to finish your Algebra homework? Are you wishing that you were hanging out with your friends, surfing the net, or playing games?
It is frustrating...
You try to complete your homework but you really have NO idea what you are doing? It's impossible, frustrating, and it sets you further behind the next day. (Not to mention, the poor grades that show up on your report card.)
There is HOPE...
What would you say, if I told you that I know of a way that you can not only complete your homework more quickly, but also really develop an understanding of the concepts.?
YES.... that means higher grades on homework, tests, and quizzes AND more time to hang with your friends.
So, I do have a solution. There is a wonderful program that acts just like a tutor. You can type in any algebra problem and get the answer instantly. Yeah... instant Algebra 1 homework help!
But... it's even better than that. Just the answer isn't really going to help you to understand the concept. This program will show all of the steps for solving the problem AND give an explanation for each of the steps.
It's just like a personal tutor!
The Algebrator has been a life saver for many students and will truly help to boost your Algebra grade.
Try It Out For Yourself
Get Algebra 1 homework help just like these folks...
WOW!! I recommend the ALGEBRATOR to everyone! My sister will soon put an order in for herself; I used it through college classes (2007) and now my son will soon be heading into middle school and he too will learn from this!
It's just like having a teacher right there with you helping you through EVERY kind of problem you can imagine! Not only is the program amazing, the customer service is superb, there is nothing they won't go out of their way to help you with! Thank you so much ALGEBRATOR for having the awesome customer service that so many places have lost over the years, and for offering the BEST math program! You are the best!
Nettie, Las Vegas, NV
Another satisfied customer says...
I think the program is tremendous. We have only been using it a week, but it has already paid for itself. We are currently using it to "check" homework assignment on a child struggling in Algebra 2 in High School.
I set it to save "99" steps and we can see every step of the solution. The explanations at each step are invaluable, since it has been many years since my Algebra days. We haven't had a problem yet it couldn't solve. It is pretty user friendly, and, as long as you enter the problem correctly, there are no problems.
Next year we have another child starting High School and Algebra 1. I will be looking forward to the next release of the Algebrator. It is great!
Bob Albert, Sebastopol, CA
Young and old love the Algebrator.
The Algebrator is great! There are some free online algebra calculators that work okay, but they are limited in the types of problems which they can solve and also limited to the math symbols which can be entered using only a standard computer keyboard. There is not a single equation in my wife's college algebra book which the Algebrator couldn't solve.
It is particularly useful for solving inequalities. And the user interface with buttons for entering all the math symbols and the way it shows them in problems on the screen just as if they were written on paper is awesome.
The "Explain" function, in combination with the way all the steps in solving a problem are displayed, is a very valuable instructional tool for learning not just the solution to a particular problem, but what it means and the methods for solving it.
The Algebrator is the best purchase I ever made. It saved my marriage... no more getting into arguments with my frustrated wife over how to solve a problem in her algebra homework!
Daniel Rutschman, Phoenix, AZ
And... the technical support is great.
Dear Algebrator team, You'll be delighted to know she (Lisa) got an 85% thanks to you guys acting quickly. You're my (and her) hero's - thanks so much, she yelled so loud when she saw her score that I won't be able to hear out of my left ear for a week.
You guys are lifesavers, and your prompt response on Sunday to help was just beyond great, it saved the day!
Rick, Memphis, TN
I have teamed up with the Algebrator team to offer Algebra Class visitors a special discount on the program. Click here to get Algebrator today and never stress over your homework again!
Return from Algebra 1 Homework Help to the Algebra Class home page.
Like Us on Facebook
Recommend this on Google
Algebra Class E-course Members
Sign Up for Algebra Class E-courses
Click here to renew or retrieve a lost password.
Search This Site
Custom Search
What People Are Saying...
---
"I'd like to start off by relaying my sincerest gratitude for your dedication in teaching algebra. Your methodology is by far the simplest to follow, primarily because you take the time to include the small steps in between that most other teachers leave out.
It helps to know why you are doing something. I am 45 and heading to college to get my BS in Business. I need to brush up, hence the visit to your site. Great Job!"
Jimmy - United States
---
"I stumbled onto your site after I found out that I needed to use some fundamental algebra for an assignment. Turns out I had forgotten some things and your great site helped me remember them like "that" (snap of fingers). The organization of the site let me find exactly what I was looking for so easily. Kudos to you for maintaining such a great resource for students of all ages!"
Tom - United States
---
"I just wanted to write and basically thank you for making such a wonderful website! I'm 20 years old and about to take a basic placement test for college. I wanted to brush up on my Algebra skills and I stumbled upon your site. I'm amazed at how simple you make it and how fast I'm remembering Algebra! I don't remember getting most of the answers right when I had an actual teacher in front of me teaching this. Thanks a lot!"
Elizabeth - United States
---
"I am a pensioner living in South Africa. I stumbled on your website, the best thing that could ever happen to me! Your course in Algebra has helped me a lot to better understand the different concepts. Thank you very much for sharing your skills for teaching math to even people like me. Please do not stop, as I am sure that your teachings have helped thousands of people like me all over the world."
Noel - South Africa
---
This is an amazing program. In one weekend I used it to teach my Grade 9 daughter most of the introductory topics in Linear Relations. I took her up to Rate of Change and now she can do her homework by herself.
Reg - United States