Algebra 1 Homework Help
Every Time You Need It
Now you can get Algebra 1 homework help instantly and with step by step explanations.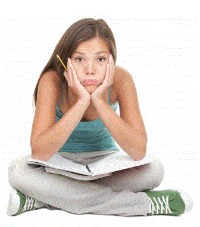 Is this how you are feeling right now?
Does it take you hours to finish your Algebra homework? Are you wishing that you were hanging out with your friends, surfing the net, or playing games?
It is frustrating...
You try to complete your homework but you really have NO idea what you are doing? It's
impossible, frustrating
, and it sets you further behind the next day. (Not to mention, the poor grades that show up on your report card.)
There is HOPE...
What would you say, if I told you that I know of a way that you can not only complete your homework more quickly, but also really develop an understanding of the concepts.?
YES.... that means higher grades on homework, tests, and quizzes AND more time to hang with your friends.
So, I do have a solution. There is a wonderful program that acts just like a tutor. You can type in any algebra problem and get the answer instantly. Yeah... instant Algebra 1 homework help!
But... it's even better than that. Just the answer isn't really going to help you to understand the concept. This program will show all of the steps for solving the problem AND give an explanation for each of the steps.
It's just like a personal tutor! Try it For Yourself!
Get Algebra 1 homework help just like these folks...
WOW!! I recommend the ALGEBRATOR to everyone! My sister will soon put an order in for herself; I used it through college classes (2007) and now my son will soon be heading into middle school and he too will learn from this!
It's just like having a teacher right there with you helping you through EVERY kind of problem you can imagine! Not only is the program amazing, the customer service is superb, there is nothing they won't go out of their way to help you with! Thank you so much ALGEBRATOR for having the awesome customer service that so many places have lost over the years, and for offering the BEST math program! You are the best!
Nettie, Las Vegas, NV
Another satisfied customer says...
I think the program is tremendous. We have only been using it a week, but it has already paid for itself. We are currently using it to "check" homework assignment on a child struggling in Algebra 2 in High School.
I set it to save "99" steps and we can see every step of the solution. The explanations at each step are invaluable, since it has been many years since my Algebra days. We haven't had a problem yet it couldn't solve. It is pretty user friendly, and, as long as you enter the problem correctly, there are no problems.
Next year we have another child starting High School and Algebra 1. I will be looking forward to the next release of the Algebrator. It is great!
Bob Albert, Sebastopol, CA
Young and old love the Algebrator.
The Algebrator is great! There are some free online algebra calculators that work okay, but they are limited in the types of problems which they can solve and also limited to the math symbols which can be entered using only a standard computer keyboard. There is not a single equation in my wife's college algebra book which the Algebrator couldn't solve.
It is particularly useful for solving inequalities. And the user interface with buttons for entering all the math symbols and the way it shows them in problems on the screen just as if they were written on paper is awesome.
The "Explain" function, in combination with the way all the steps in solving a problem are displayed, is a very valuable instructional tool for learning not just the solution to a particular problem, but what it means and the methods for solving it.
The Algebrator is the best purchase I ever made. It saved my marriage... no more getting into arguments with my frustrated wife over how to solve a problem in her algebra homework!
Daniel Rutschman, Phoenix, AZ
And... the technical support is great.
Dear Algebrator team, You'll be delighted to know she (Lisa) got an 85% thanks to you guys acting quickly. You're my (and her) hero's - thanks so much, she yelled so loud when she saw her score that I won't be able to hear out of my left ear for a week.
You guys are lifesavers, and your prompt response on Sunday to help was just beyond great, it saved the day!
Rick, Memphis, TN
I have teamed up with the Algebrator team to offer Algebra Class visitors a special discount on the program. Click here to get Algebrator today and never stress over your homework again!
Return from Algebra 1 Homework Help to the Algebra Class home page.
Like This Page?
---
---