Simplfying Algebraic Expressions
Practice Problems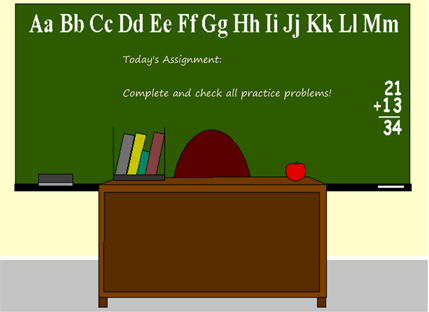 Now that you've studied the four detailed examples for Simplfying Algebraic Expressions, you are ready to try some on your own! If you haven't studied this lesson yet, click here. Be very careful as you simplify your terms and make sure that you always take the sign in front of the term as you move things around!



Practice Problems
---
Simplify each expression to lowest terms.

Click here to check your answers.

1. -9n -n -3m




2. 3ab -2ac +4ab




3. 2a -4b +3ab -5a +2b




4. 8x -9y -3xy - 2y -x +4xy




5. 2r -3s -t +3t +3s




6. 4(2p -1) - (p+5)




7. 6(p +3q) - (7 +4q)




8. 2(xy -1) + 3(x-2y) -4xy




9. 4rs -2s -3(rs +1) -2s




10. 8y -2z -(y-z)+3yz






Answer Key
---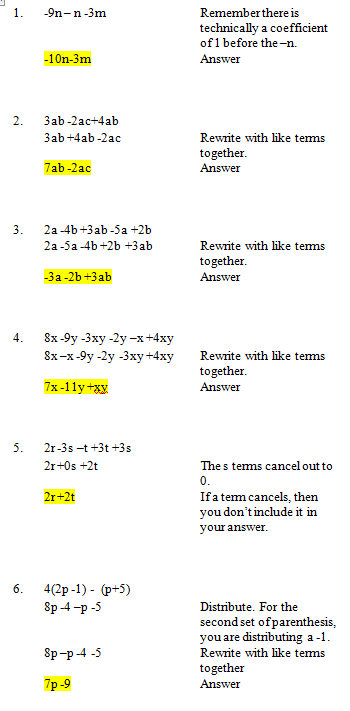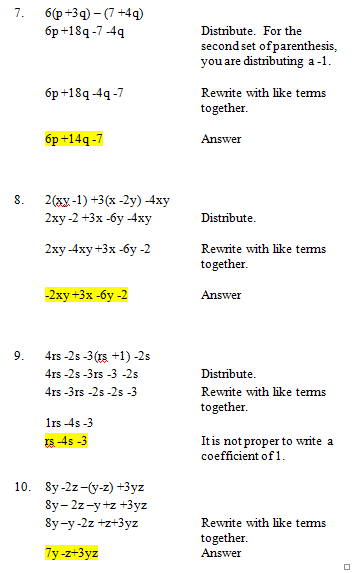 So... how did you do? Are you ready to move onto the next unit, Solving Equations?

You're doing a great job! Remember... Algebra skills build on one another, so make sure that you really understand each concept!





Like Us on Facebook
Recommend this on Google
Algebra Class E-course Members
Sign Up for Algebra Class E-courses
Click here to renew or retrieve a lost password.
Search This Site
Custom Search
Get Your FREE E-course!
Do You Need to Review Your Basic Algebra Skills?
The Algebraic Expressions Course is the perfect solution for fine tuning those rusty Pre-Algebra skills.
Once you sign in. you'll have instant access to the student workbook and online videos.
It's FREE, so try it today!

Having Trouble with Your Homework?