Factoring Trinomials
Lesson 3 in the "Factoring Series"
Factoring trinomials is probably the most common type of factoring in Algebra. In Algebra 1 we will factor trinomials that have a lead coefficient of 1. In Algebra 2, we will progress to factoring more complex trinomials whose lead coefficient is greater than 1.
To begin this lesson, it is important for you to understand the process of multiplying binomials using the FOIL method. Please be sure to review that lesson before starting this lesson. Click here to review the FOIL method lesson.
The diagram below outlines the product of multiplying two binomials.
It's important to understand how we reach the trinomial because in this lesson we are going to work backwards to form the factors or two binomials.
Result of Multiplying Two Binomials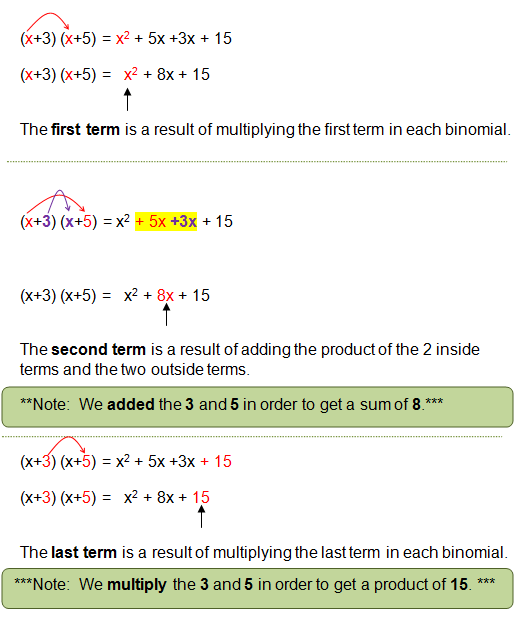 Did you notice how we added the two last terms of each binomial (3 & 5) to get the middle term and we multiplied the same two last terms (3 & 5) in order to get the last term of the trinomial?
Ok, now let's work backwards. You will be given the trinomial and in order to factor the trinomial, you will need to work backwards to find the two binomials. Let's look at an example.
Example 1
Just 3 easy steps to factoring trinomials. Let's take a look at another example. This example is a little more difficult because we will be working with negative and positive numbers.
Example 2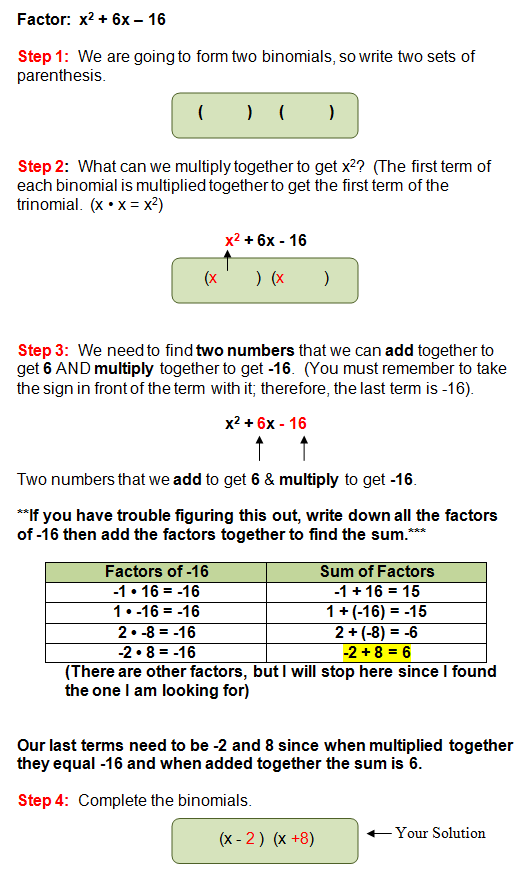 TIP
When have a trinomial with a minus sign, pay careful attention to your positive and negative numbers. In the example above, 8 and -2 are the numbers that we needed to complete our binomials; however, -8 and 2 would not have worked!
I know that factoring trinomials is tough, so let's look at one more example. Again, this trinomial will contain a minus sign, so pay careful attention to the positive and negative numbers that you choose.
Example 3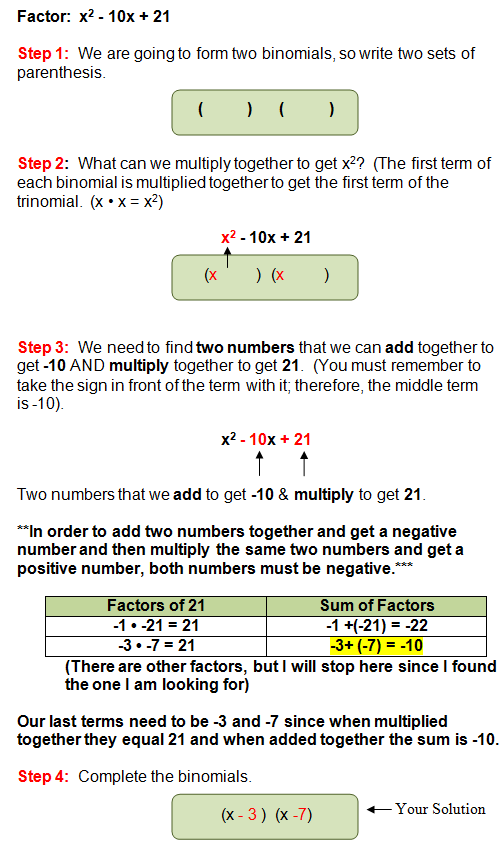 Need Extra Help with Factoring?
Enter your expression and click "Factor".
Great Job! You have completed the Algebra 1 Polynomials Unit!
Like Us on Facebook
Recommend this on Google
Algebra Class E-course Members
Sign Up for Algebra Class E-courses
Click here to renew or retrieve a lost password.
Search This Site
Custom Search
Algebra Class Courses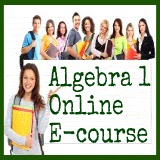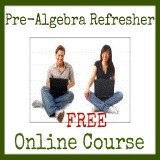 What People Are Saying...
Dear Karin,
I am a homeschool mom of five who struggled with finding a solid algebra program for my older boys until I came upon your algebra class. Your tutorials are straight forward and detailed. Your assignments are designed in such a way that we can spend extra time on what my children need to and move on when they understand something more easily.
I am a math-lover myself and am excited that you have finished part 2 of this course. My boys are understanding algebra in a way that they never were able to with other courses due to the detail and care that are in each of your lessons. I also appreciate that you are available to answer questions.
Thank you,
Jacqui Coleman
---
Dear Karin,
Finding your site was such a blessing to me! I have been out of school for 13+ years and finding out that my next course would be Algebra scared me to death!
I have now found a new love of learning for algebra--something I never thought would happen. After indulging in the section of functions, I decided to explore other areas that I have just learned. It made areas such as inequalities and graphing so much easier to grasp!
I just wanted to thank you for your passion and dedication for helping others! I also love the fact that you add in some humor, too. I have shared your site with classmates and hope they take an opportunity to look into it as well! Thank you----
With greatest respect,
Dani
---
Hi Karin,
I just spent 3 hours doing Unit 5 Lessons 1 & 2 because that is what I am learning at school this week, and cannot believe my progress. I so wish I would have found your course sooner. It is amazing. You explain everything in such clarity it's like night and day. Thank you so much for getting me started. I am so happy you can't believe it. You are the best instructor ever!
Thanks again.
Joe