An Online Algebra Class that Guarantees Your Success In Algebra 1
An affordable online Algebra Class for students who are struggling with Algebra 1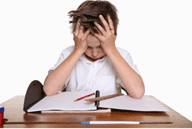 Is this a picture of you as you sit down to complete your Algebra work? Do you feel your blood pressure start to rise even before you turn to the correct page in your book? Do you end up crumpling your paper and feel like you're about to throw your Algebra book out of the window?
If you answered "YES" to all of these questions, then join the club!
That's right - you are NOT the only one feeling this way! The number one subject in school that causes anxiety in students is Math!
It doesn't matter whether you are home schooled, attend public or private school, or whether you are attending college - the answer is always the same..... Math!
Check It Out

Who Should Take This Online Algebra Class?
This online algebra class was created with "Any" Algebra student in mind. It's perfect for the home school student who is looking for an easy to understand curriculum that allows for independent study.
It's also perfect for a middle or high school student who needs extra help with their Algebra class.
Many teachers and tutors use it for students who are falling behind in class and I also have many adults purchase the curriculum so that they can brush up on their skills before taking an introductory Algebra class in college.
How Does The Online Algebra Class Work?
You will log in to the E-course from any computer that you choose.
You will start by watching a video lesson. Each video explains the concept in "bite size pieces". Through several examples, you are guided step by step through the process.
You are also given a pre-designed "notes worksheet" to take notes on as you watch the video. In this way, you'll have notes to refer back to when completing your practice problems.
You will then have ample practice problems to complete in order to fully master each skill.
The BEST part is that you will have step-by-step solutions to every single problem! You will never have to spend time trying to figure out where you made your mistake. This allows you to learn from your mistakes and to fully understand the concept.
If you are using this online algebra class as your only curriculum (for home schooling or teaching purposes), I've also included chapter quizzes, tests, and a mid-term and final exam. (Yes - with step-by-step solutions!)
It Really Does Work...
Take a look at this email that I received from a struggling 38 year old mother of five.
Dear Karin,
I am a 38 year old mother of five who has never done mathematics in high school. I am considering a career change so I need mathematics desperately. In my attempts to learn high school maths, I had tried several programs from the internet. I had bought at least three maths programs locally.
Then I Googled something on equations and came across your web page. As I have stated earlier in the previous email, it is the best! I have not seen anything that comes close to your material. You have taken away my frustration and made learning maths very easy and fun for me.
For me, your course explains even better than one of the high school teachers whose services I had acquired to help with my studies. I literally came from one of his classes crying, thinking that I had become so dumb that I could not comprehend a thing in what he was trying to explain.
Until I used your material, I felt that mathematics was not for "dummies" like me. Since I started using your program less than 4 weeks ago, I already feel like one of the Professors in Mathematics. I am learning from home now without any maths tutor. I love maths. You are a great teacher. Thank you very much.
Regards,
Ntombifuthi
So... What Units Will You Study?
The Algebra 1 course consists of the following ten units:
Unit 1: Solving Equations
Unit 2: Graphing Equations
Unit 3: Writing Equations
Unit 4: Systems of Equations
Unit 5: Inequalities
Unit 6: Functions
Unit 7: Exponents and Monomials
Unit 8: Polynomials
Unit 9: Factoring Polynomials
Unit 10: Quadratic Equations
You'll have instant access to all ten units of the Algebra Class curriculum, plus a mid-term and final exam! Click here for more detailed information on the curriculum.
Check out the 77 individual lessons in the entire Algebra 1 curriculum.
Sign up Now for only $8.99 per month OR Save 40% and Subscribe for a Whole Year for just $64.99

That's right, all you have to do is choose a username and password and you will have instant access to the entire Algebra Class curriculum! There is absolutely nothing that you have to download! It can't get much easier!
Please Note: You will not receive an actual book in the mail. This is an online course, and all materials can be saved or printed from your computer. You will access all worksheets and videos once you login to the secure online course.
A home school mom says...
Dear Karin,
I am a home school mom of five who struggled with finding a solid Algebra program for my older boys until I came upon your online algebra class. Your tutorials are straight forward and detailed.
Your assignments are designed in such a way that we can spend extra time on what my children need to and move on when they understand something more easily. I am a math-lover myself and am excited that you have finished Part 2 of this course.
My boys are understanding Algebra in a way that they never were able to with other courses due to the detail and care that are in each of your lessons. I also appreciate that you are available to answer questions.
Thank You!
Jacqui Coleman
Another Home school Parent Says...
My daughter is a ninth grade student attending a local high school in Toronto, Ontario. I am using the online Algebra Class to help her. She was not well prepared in Pre-Algebra, hence most of the subjects in Algebra 1 are new to her.
Algebra 1 is not a well taught subject. Her high school Math teacher does not use the method that you use, consequently, she is not grasping the subject matter thoroughly. Your step-by-step problem solving technique is helping her to understand the subject matter and individual topics.
My daughter comments that she likes your video presentations and wishes she could see a picture of you.
This e-course has helped my daughter to better understand Algebra in the following ways:
The topic (e.g.. Solving Equations) is explained and every detail of one step, two step, etc... is explained in such a clear manner that sometimes she stops the video to work out the problem, and then continue.
She can now distinguish between solving equations, writing equations, graphing equations, systems of equations, and word problems because of your video presentations.
In subtracting polynomials, she could not grasp it until she began to follow your Keep-Change-Change procedure.
We have used other Algebra products, but this differs because Karin is the only teacher who makes my daughter feel as if she is sitting beside the teacher.
Thank You!
Reggie Clark
Is this How You Want to Feel?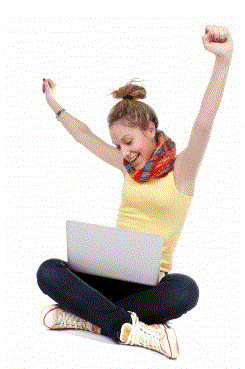 When you sign up, you'll have instant access to Algebra Class. No waiting for books to arrive in the mail.
You can sign on from anywhere that you have internet access. Use this online Algebra Class at school, work, and at home! You never have to download anything on to your computer.
Watch step-by-step videos that guide you every step of the way. You will feel confident in completing your work after truly understanding how to complete each problem.
If you have trouble staying organized or taking notes, use the notes worksheets that are pre-designed for each lesson. You'll create your own little Algebra text book that you can refer back to as you complete the program.
Use the many graphic organizers provided to help you build a solid understanding of each concept. These graphic organizers are unique to Algebra Class. You cannot find these in any text book!
Complete your practice problems with confidence knowing that you can check your work with the step by step answer key! You will never spend 20 minutes trying to figure out where you went wrong! Once you learn from your mistake, you'll never make it again!
Assess your skills throughout with the quizzes, chapter tests and exams. You will know instantly if you are on track and ready to continue making progress.
Watch your stress melt away as you go into class with confidence. No more dreading Math!!!
Have instant access to all 10 units of an Algebra 1 curriculum. Upon completion of this course, you will be ready for Algebra 2.

Every package is backed by my 60 day guarantee. I am so confident that you will find success with Algebra Class, that I will give you 60 full days to use the workbook and video tutorials. If for any reason, you are not satisfied, just contact me and I will promptly refund your money!
If you have questions regarding your Algebra Class purchase, you may contact me at: 410-937-8468 or you can contact me via email and I will respond in less than 24 hours.
Frequently Asked Questions
What if I order and for some reason it doesn't work for me? We know that everyone has different learning styles. If you feel that you are not mastering Algebra 1, simply contact me (within 60 days of signing up) and I will refund your money promptly. (I've only had one return and that was because the customer thought this curriculum covered Algebra 2.)
Will I receive the books in the mail that are shown on website? No, the books are simply a graphic. This is an E-course and all of the materials can be printed. You will login and have access to all materials. Nothing will arrive in the mail.
Can I try it out before I purchase? Yes, I have one unit that you can access for free. It's a pre-algebra refresher and it will give you an idea of how the E-course is set up. You can sign up here.
Does this program work with Mac computers? Yes, you can use a Mac computer, a PC computer, or a tablet. All videos are formatted to be viewed on all computers.
What if I'm a teacher and need multiple logins for my students? Contact me and I will give you my group rates for schools or teachers.
What if I have trouble logging on or need technical support? Simply contact me through the website and I will respond within 24 hours, usually must sooner. I can also be reached by phone at 410-937-8468.
Do I have to use Pay Pal? No, you may use pay pal or you can use your credit card. The box below the Pay Pal payment information is the link for using your credit card.
Is your payment processor secure? Yes! I use Pay Pal and it's very secure. You can verify this by checking your address bar on the payment page. It will start with https if the payment page is secure.
Can I pay by check or money order?Yes! If you are not comfortable with using your credit card or pay pal, simply contact me and I will give you an address to send the payment.
Get rid of that frustration and math anxiety today!
Create your user name and password and get started instantly!
Get Instant Access for only $8.99 per month OR Save 40% and Subscribe for a Whole Year for just $64.99

I wish you much success in your math studies,
Karin Hutchinson