Your Step-by-Step Guide to Mastering Algebra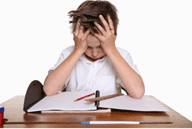 Do you feel stressed and frustrated with your Algebra work?
If you are feeling this way too, don't worry! All of your problems can be solved right here.
As a former teacher, I've created a website that I know will help you better understand Algebra.
Here's what you'll find on Algebra-class.com: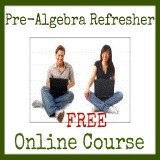 Start with the FREE Pre-Algebra refresher course and the first unit of the Algebra 1 Ecourse, Solving Equations.
These two FREE units will give you a solid foundation for Algebra which will allow you to better understand the entire Algebra curriculum.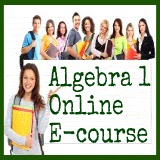 Are you looking for a complete and thorough homeschool curriculum?
Or are you trying to pass the college entrance exams to avoid taking the introductory college course for no credit?
Or maybe you are struggling with your Algebra course and need a 24/7 tutor.
If any of these describe your situation, you will benefit from a subscription to the Algebra 1 E-course, which is an indepth study of beginning Algebra.
Note: I've also started the Algebra 2 curriculum. The first five units are now available with the Algebra 1 subscription!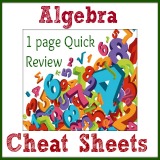 This is by far the most popular page and download on Algebra-class.
One page cheat sheets for every Algebra unit. On one page, you will find all of the formulas, quick examples, and important information needed for the unit.
These FREE downloads are the perfect study resource or homework guide for struggling students.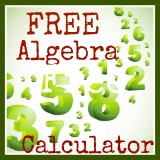 Need help figuring out if your homework answers are correct?
Try this free calculator that will calculate the answer for you. It's a great way to check your answers to make sure they are correct.
Just remember, if your answers are not correct, be sure to go back and find your mistakes!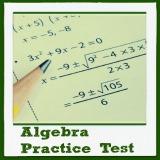 Looking to test your skills? I have two tests available on Algebra-class.
The Algebra Readiness Test allows you to assess whether you are ready to begin your study of Algebra. Make sure you have all of the necessary skills to be successful before you begin!
The Algebra 1 practice test allows you to assess whether your've mastered all of the Algebra 1 skills before moving on to Algebra 2.
Didn't Find What You Need?
---
You can use the navigation to the left to click on any unit and find lessons with complete examples and some video tutorials.
I will walk you step-by-step through hundreds of Algebra problems!
You can also use the Algebra site map to quickly find lessons for any algebra lesson.
Studying Pre-Algebra? Use the Pre-Algebra site map for quick and easy reference to all Pre-Algebra lessons.