Your Step-by-Step Guide to Mastering Algebra 1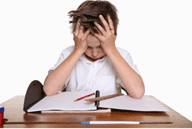 Do you feel stressed and frustrated with your Algebra work?
If you are feeling this way too, don't worry! All of your problems can be solved right here.
As a former teacher, I've created a website that I know will help you with better understand Algebra.
Here's what you'll find on Algebra-class.com:
Most Helpful Pages
The following pages are our most popular and most helpful pages for students who are studying Algebra
How is Algebra Class Organized?
Algebra Class is set up in units with sequential lessons for each unit. I've set it up this way for students who are using the website as a self study course and so that you can easily find the topic that you are studying.
You can access the lessons in two different ways.
The left nav bar has all of the Pre-Algebra and Algebra lessons listed by Unit. Click on the unit that you are studying and you will see a table of contents for the lessons presented in that unit.


If you are studying Pre-Algebra you can use the Pre-Algebra site map to view all Pre-Algebra units and lessons.


If you are studying Algebra, you can use the Algebra site map to view all of the Algebra units and lessons.


Math Forum - Now you can get YOUR Questions answered! There is a forum for everyone. You can ask a question, answer a question or just read what other's have to say. It's FREE, fun, and there's no registration required. Click here to see what it's all about.
If you need IMMEDIATE Algebra help, look no further!
Check out the Algebra Class E-courses. These E-courses will lead you through an entire Algebra 1 curiculum that is self paced, and thoroughly explained with step by step examples, and practice problems. Check out this video for more details on how to access this course.
The E-course is offered as a monthly subscription for $9.99 per month or you can purchase a full year subscription for just $49.99 per year.
Click here for more information or to sign-up for the Algebra Class E-course.

Make Sure You Try the FREE Pre-Algebra Refresher Course
---
We also offer a Pre-Algebra refresher course. This mini course is perfect for anyone who needs to review integers, order of operations, like terms or the distributive property.
And... as a BONUS you will also have access to the first unit of the Algebra Class E-course!
You now have FREE access to all 12 units of the Solving Equations Unit, complete with video tutorials, practice problems and step-by-step answer keys! I hope you enjoy this program. Click here to get started for FREE!
New For Teachers!
Looking for more practice worksheets for your students? Would it be helpful to have step-by-step solutions to every problem? Plus quizzes, unit tests, mid-terms and final exams all packaged into one deal!
You can now get all of the Algebra E-course materials (minus the video tutorials) in one simple download!
Click here for more information and to order the Algebra 1 worksheets.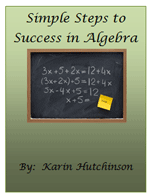 If you find that you like the detailed examples on Algebra-class.com, then why not get the book!
This e-book, Simple Steps to Success in Algebra, contains many of the examples from Algebra-class.com.
You can print all of the examples, ad free, and without the added "white space" that's created when printing a web page. It also includes practice problems for each lesson with a step-by-step answer key. Click here to download your Algebra 1 book today.
If you need help - Hop on the "COOL BUS" with me. I'll take you on a journey that you'll never forget!