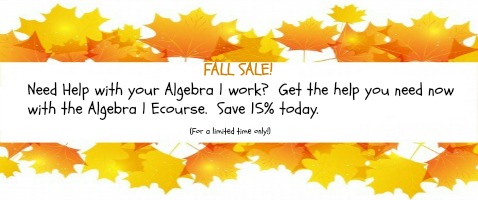 Your Step-by-Step Guide to Mastering Algebra 1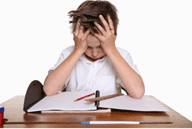 Do you feel stressed and frustrated with your Algebra work?
If you are feeling this way too, don't worry! All of your problems can be solved right here.
If you need IMMEDIATE Algebra help, look no further!
Check out the Algebra Class E-courses. These E-courses will lead you through an entire Algebra 1 curiculum that is self paced, and thoroughly explained with step by step examples, and practice problems. Check out this video for more details on how to access this course.
The E-course is offered as a monthly subscription or you can purchase a full year for over 50% off the subscription rate.
You might even want to start with the FREE Pre-Algebra Refresher course to make sure you are ready to tackle Algebra 1.
Click here for more information or to sign-up for the Algebra Class E-course.

New For Teachers!
Looking for more practice worksheets for your students? Would it be helpful to have step-by-step solutions to every problem? Plus quizzes, unit tests, mid-terms and final exams all packaged into one deal!
You can now get all of the Algebra E-course materials (minus the video tutorials) in one simple download!
Click here for more information and to order the Algebra 1 worksheets.
A Little More About Algebra-class.com
My name is Karin Hutchinson and I'm a middle school math teacher... or at least I used to be until I took a few years off to raise my children.
I treasure every moment I have at home with my girls, but I still want to continue my passion of teaching. I love Algebra and I LOVE to teach.
So, I've designed this website in hopes of helping YOU better understand your math work. If you need help, then you've come to the right place! Click here to learn more about me.
Here's what you'll find on Algebra-class.com: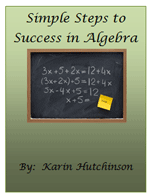 If you find that you like the detailed examples on Algebra-class.com, then you do have the option to print this site!
This e-book, Simple Steps to Success in Algebra, contains all of the examples from Algebra-class.com.
You can print all of the examples, ad free, and without the added "white space" that's created when printing a web page. Click here to print this website.