Home

»
Graphing Equations
» Standard Form Equations
Using the X and Y Intercept to Graph
Linear Equations
You've learned one way to graph a standard form equation - by converting it to slope intercept form. Click here to review this lesson.
There is another way to graph standard form equations, and that is to find the x and y intercepts.
Before we begin, let's quickly review what standard form looks like.
What is Standard Form?
Now let's review what the term intercepts means. An intercept is where your line crosses an axis. We have an x intercept and a y intercept.
The point where the line touches the x axis is called the x intercept. The point where the line touches the y axis is called the y intercept.
Take a look at the graph below.
If we can find the points where the line crosses the x and y axis, then we would have two points and we'd be able to draw a line.
When equations are written in standard form, it is pretty easy to find the intercepts. Take a look at this diagram, as it will help you to understand the process.
Now, let's apply this. Just remember:
To find the X Intercept: Let y = 0
To find the Y Intercept: Let x = 0
Let's look at an example.
Example 1
---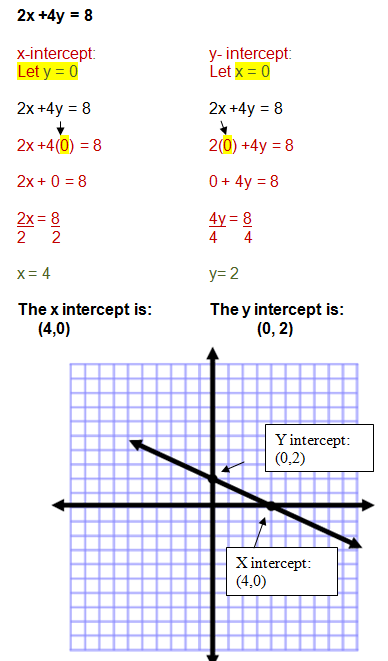 ---
This concept can be confusing, so let's take a look at the video to explain example 1.

If you want to see this example on video,
click here to visit my You Tube channel.
Ok.. now let's look at a real world problem that we can solve using intercepts.
Example 2
---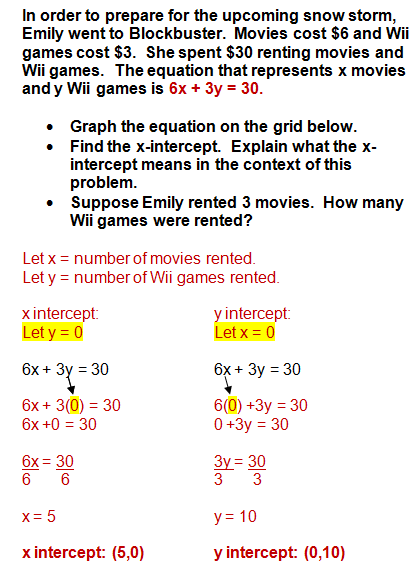 ---
You've done it! You are now the master of graphing linear equations. You have several techniques that you can use to graph any linear equation.
Take a look at the questions that other students have submitted on graphing linear equations: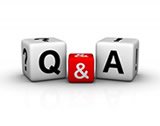 Thinking Questions on Graphing
To ask a question, please visit my Math Forum.
Other Lessons You Might Like on Graphing Equations
Like This Page?
---
---